Prepared for Emergencies?

Disasters can happen anytime and anywhere.

Meet our new friend Ready Wrigley
http://www.cdc.gov/phpr/readywrigley/index.htm - cdc.gov
1. PLAN: Make an emergency plan ahead of time so you and your family know what to do when an emergency occurs.  It is important to practice your plan so everyone can remember what to do when and emergency situation happens.  To prepare for different types of emergencies you need to know what your risks are.

Make A Plan - ready.gov

Make A Plan Mobile App - beta.ready.gov
Include all members of the family.  

Where could you all meet safely? 

 
Is there someone you could all contact if you were separated?     Safe and Well
When is it best to stay put or leave?  Stay or Go -

Illinois.gov

What's a Go Bag?  Go Bag List -

Illinois.gov

Each member of your household should have his or her own Go Bag.


Go Bags should be easy to carry and sturdy.

Go Bags should be stored in an easily accessible location.

Ideally, you should keep a Go Bag at your home, in your car, and at work.

Go Bags should be prepared for any time of year.

Go Bags should be updated every six months.
2. SUPPLY KIT: Have a kit for your home, vehicles and workplace.  Think of things that are relevant to your family's needs.
Do you have an infant that would require formula and diapers? 

Do you have your necessary medications? 

What about those important documents?  Are they stored in a waterproofed container?  You may want to keep an extra set of copies at a safety deposit box. 

Do you have pets?

3. Get Training: Learning how to perform CPR and First Aid are important for everyone to learn. Know how to turn off utilities (power, gas, water) to your home.

4. Volunteer:  Volunteer in you community and learn how to work side by side with your neighbors.  Not only does it feel good, you may learn something new.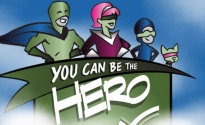 Other Helpful links:
What Can Kids Do? - ready.gov